The Signing Of The


Proceedings
Washington,D.C.
April 4, 1949


US Department of State, Washington, D.C., 1949.
Navy blue and gray wrappers, large octavo, 66 pages, b&w frontispiece photograph, b&w photographs, facsimiles of treaty signers' signatures.
This booklet came from the collection of William Tredwell Ketcham, Jr, whose signature appears at the top margin of the front cover. Ketcham was in the US Foreign Sevice after WW2 and was attached to NATO.

"KETCHAM -- William Tredwell, Jr. died at home in Lawrence, Long Island, on July 18, 2006 after a long illness. He was 86. Born on August 2nd, 1919, he was the son of Mr. and Mrs. William T. Ketcham. He attended the Lawrence School, the Hill School, and Yale, Class of '41. During World War II he served for five years in the United States Marine Corps and as company commander of Company One, Third Battalion, in the 24th Regiment. He won the Navy Cross for heroism leading his men off the beach at Iwo Jima ''with complete disregard for his own safety'' and in spite of serious wounds. After the War Treddy attended Yale Law School, joined the foreign service and spent several years in London as the special assistant to the chairman of NATO. Returning to New York he joined the firm of Davis, Polk and Wardwell and was then hired as special counsel at IBM, where he worked until his retirement in 1984. An outstanding athlete, Treddy won dozens of national and club championships in squash and tennis, was a past president of the United States Squash Racquets Association and a longtime director of the International Lawn Tennis Club. His many other board memberships included the St. Nicholas Society (of which he was a past President), the Riot Relief Fund, and the Society of Colonial Wars of New York State. A man of exceptional good cheer, Treddy was the quintessential club man, the longest serving president of the Rockaway Hunting Club, longtime vice president of The Brook, U.S. representative of the Jesters, and a member of the Racquet and Tennis Club, the Lawrence Beach Club, the Cedarhurst Yacht Club, and the Saratoga Reading Rooms.>br> From New York Times obituary
Please Note: We have a number of other publications on the creation and early history of NATO published in the late 1940s and early 1950s. Please inquire if you would like additional information.
Condition: Very Good (Covers have light soiling, moderate wear at spine ends. Contents are clean. Binding is tight.)
---
---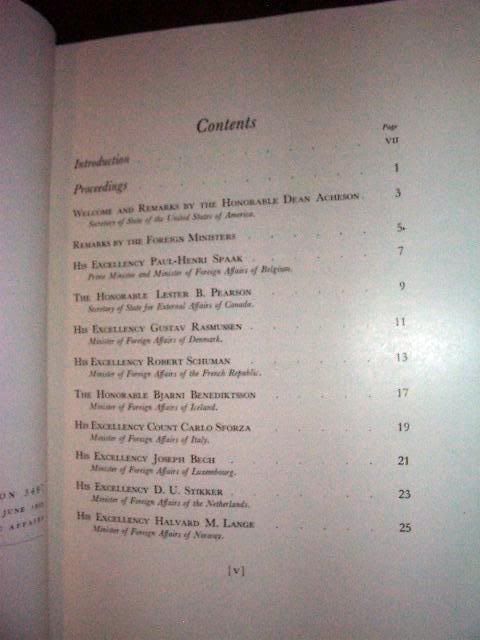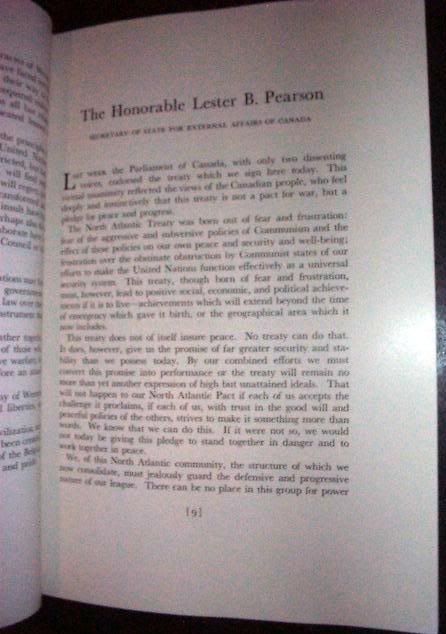 ---
---
Check our other auctions and store listings for additional unusual items.
(Click here to view all of our auctions)
---
Shipping and Payment Information



Shipping :



DOMESTIC
Domestic Media Mail shipping, including Delivery Confirmation and Insurance, is free. This applies to any address in the US and Puerto Rico, as well as to APO addresses.

Media Mail, available only for domestic shipping, is trucked to its destination, and shipped by boat to Alaska, Hawaii and Puerto Rico, On the average it takes 3 to 10 days to arrive, depending on the distance and the vagaries of the US Postal Service.

Shipments to Alaska, Hawaii, APO and other off-shore addresses take longer to arrive.

During the pre-Christmas season, Media Mail is subject to delays.

When filling out the Ebay Detailed Seller Ratings, please keep in mind that the sometime slow arrival is due to the performance of the Postal Service and not to any tardiness on the part of the seller.

For expedited domestic mailing, Priority Mail shipping can be arranged at an additional cost. For most books, we charge between two and nine dollars for this service, including delivery confirmation and insurance. For heavy sets or high-value books, the charge may be higher.


INTERNATIONAL

For international shipping, we urge bidders to request quotes of shipping costs before bidding.

We will also specify international shipping options and prices after the conclusion of the auction. We will try to provide a range of options but buyers should be aware that all shipments are via air mail and shipping of heavy books can be expensive.


COMBINED SHIPPING

For international transactions, combined shipping of multiple lots can substantially reduce postage. This is especially the case for M-Bag shipments of up to 11 lbs and for multiple volumes that will fit into a single Priority Mail flat rate box. For the above options, the postage rate is fixed independently of the weight.


INSURANCE
All of our domestic shipments are fully insured.




---
---


Payment :


No credit cards except through PayPal. Paypal payments should be in US Dollars but Euros are also acceptable if prior agreement is obtained.

As of October 2008, Ebay is imposing the requirement that all payments be made via Paypal. We understand that this requirement may be a problem to some of our customers and we will do our best to accommodate their needs.